Event
Webinar: The Evolution of Crisis Teams in Higher Education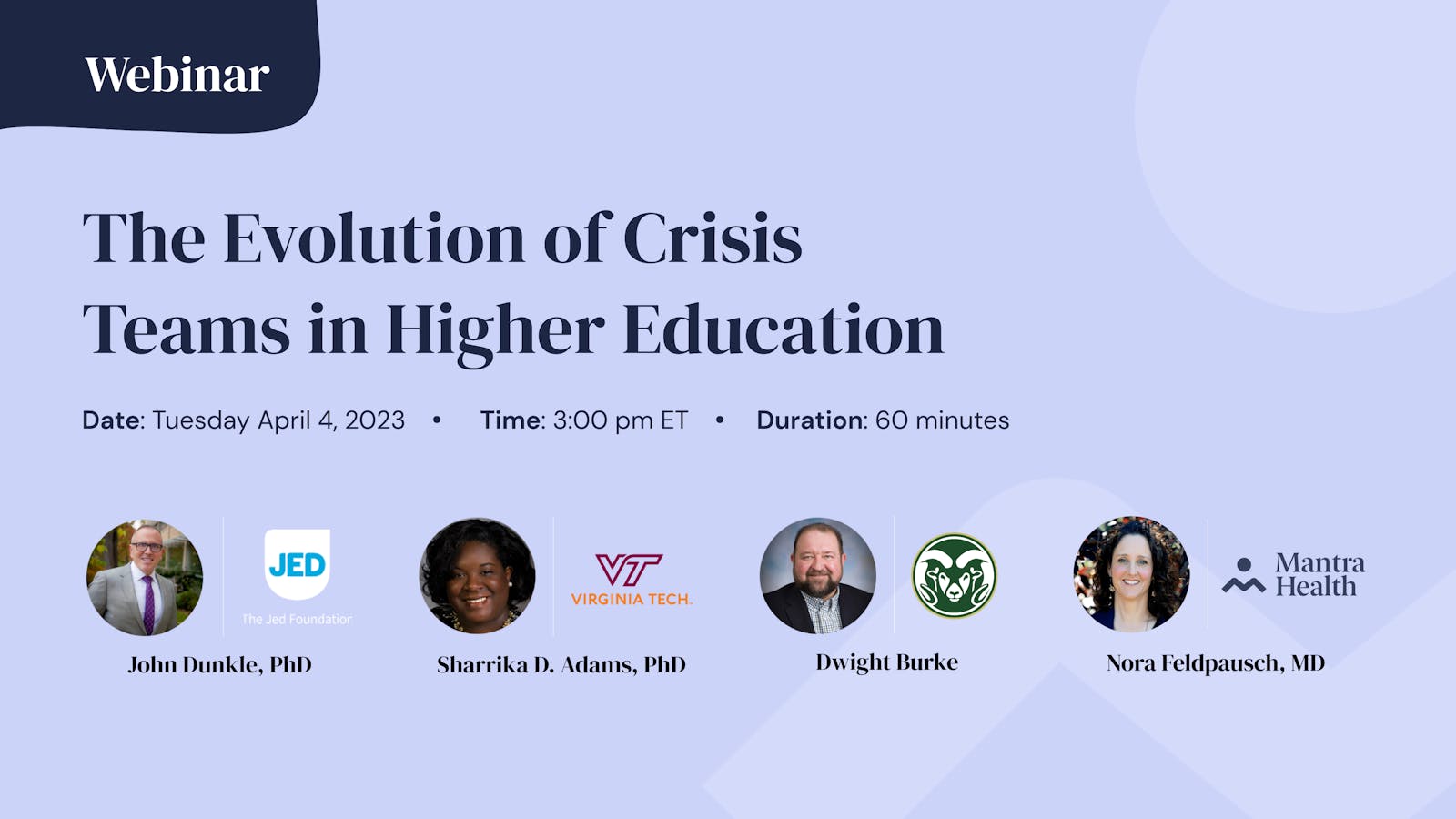 ---
Following the tragic event at Virginia Tech on April 16, 2007, higher education institutions recognized the immediate need for campus-wide communication and care coordination. Since then, we've seen an eruption of crisis prevention strategies, including the emergence of formalized case management practices and crisis coordination. Whether you've implemented a behavioral intervention, students of concern, care, and/or threat assessment team, this webinar will address how crisis management has changed and what it looks like today in a hybrid world.
During this webinar, you'll be invited to ask questions live or via chat. We'll give you an in-depth look into Mantra Health's services and more.
In this webinar discussion, you'll learn:
How care management has evolved since 2007
What care team structures have proven effective
What challenges do institutions face when establishing crisis teams
The way hybrid care has changed the way we communicate and coordinate care
Learn about the evolution of care coordination and crisis teams, how to adapt your telehealth practices, and how to build a more effective, more seamless care team in a post-COVID world.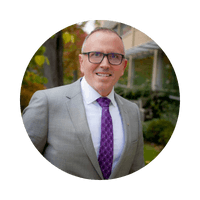 John Dunkle, PhD, Senior Clinical Director, Knowledge & Advising, The Jed Foundation
Dr. John Dunkle joined JED in June 2020 after a 25-year career at the Counseling and Psychological Services (CAPS) at Northwestern University (NU), 15 years as the Executive Director. For 3 years, he also supervised the NU Center for Awareness, Response, and Education (CARE), which provides confidential advocacy and support services for students affected by sexual violence, relationship violence, and/or stalking. John holds degrees from Corning Community College (AS), SUNY Cortland (BA, MA), and the University at Albany (PhD). He is a licensed psychologist in Illinois and New York and is credentialed by the National Register of Health Service Providers in Psychology. He is a member of the National Association of Student Personnel Administrators, the American College Health Association, and an emeritus member of the Association for University and College Counseling Center Directors.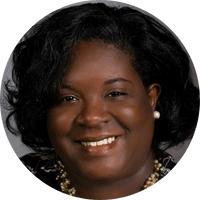 Sharrika D. Adams, PhD, Assistant Professor of Practice, Virginia Tech
Dr. Sharrika D. Adams has over 15 years of progressive administrative experience in higher education and student affairs. Dr. Adans previously served as a Title IX Investigator in Virginia Tech's Office of Equity and Accessibility. Prior to this role, she served for nine years in the Dean of Students Office at Virginia Tech, ultimately serving as the Senior Associate Dean of Students. Dr. Adams's research interests center on case management and crisis management in higher education. Her work has appeared in the Journal of Student Affairs Research and Practice and the NASPA Journal About Women in Higher Education. She holds memberships in ACPA, NASPA and HECMA (Higher Education Case Managers Association). Dr. Adams earned her PhD from Virginia Tech in Educational Leadership and Policy Studies (Higher Education program) with a Graduate Certificate in Women's Studies. She earned both her Bachelor of Arts and Master of Arts in Liberal Studies degrees from Wake Forest University (North Carolina).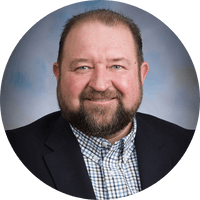 Dwight Burke, Director of Support & Safety Assessment, Colorado State University
Dwight has served at Colorado State University for over 37 years including  13 years in his current role. As Director, Dwight oversees threat assessment and management, early intervention strategies, and Title IX and/or related investigations. His previous roles include oversight of the Police and Crime lab's Investigations Division, as well as serving on Colorado State's Police Force. Dwight holds a Master of Science in Organizational Leadership from Chadron State College, as well as a Graduate Certificate in Mediation and a Bachelor of Science in Natural Resources Management and Policy from Colorado State University.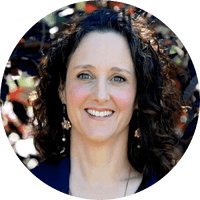 Moderator: Nora Feldpausch, MD, Medical Director, Mantra Health
Dr. Nora Feldpausch began working as a psychiatrist in college mental health during residency and has continued to build on that passion for bringing innovation and excellent clinical care to university settings ever since. She has worked in a variety of college mental health settings, including helping to build a multidisciplinary team to address high-risk and post-hospitalization care for students at Colorado State University, and assisting with creating and staffing Michigan State University Counseling and Psychiatry Service's first telehealth service. She joined Mantra's clinical advisory team in 2019, becoming Mantra's Medical Director in February 2021. Nora has helped scale Mantra's clinical program, built protocols for addressing safety and EFFIcacy in hybrid care, and overseen the development of a provider group that's dedicated to ensuring the delivery of evidence-based, innovative approaches to college mental health care