College students are facing unprecedented levels of stress, as they endure heavy workloads, crippling student loan debt, environmental crises, academic pressures, social barriers, and other serious concerns, so it comes as no surprise that 34% percent have anxiety and 41% suffer from depression. 
Campus counseling centers know the rising concerns and are working overtime to support students, but are, far too often, short-staffed, under-resourced, underfunded, and unable to meet the growing demand. They also have limited networks and few psychiatrists on staff, if any, who have the expertise and credentials needed to address more complex psychiatric issues.
While the majority of college presidents have recognized mental health as the most pressing issue on their campus, few employ psychiatrists – or invest in comprehensive psychiatric care, which is often needed to address severe mental illnesses like severe depression, psychotic disorders, and schizophrenia, among others. This gap has a crippling effect on students' health, well-being, and success on campus – and could be a contributing factor to the 43-86% dropout rate among students with mental illness.
Nora Feldpausch, M.D., Medical Director of the Wellround Provider Network at Mantra Health, believes that every college campus should take a holistic approach to address student mental health and include telepsychiatry in their service offerings. Doing so is no longer simply a benefit, but a necessity. 
The importance of psychiatry in college mental health care
Long before the COVID-19 pandemic, students were facing high levels of severe mental health conditions. According to a Healthy Minds Study, which included 10 years of population-level data, lifetime mental health diagnoses among students rose from 22% to 36% – and 88% of counseling centers reported an increase in treatment seeking behaviors over a five-year period.
There's no question that mental health services are needed, but college leaders need to think beyond this to account for students' complex mental health concerns. By adding psychiatric services to a counseling center's offerings, colleges can actually work across departments and specialties to meet the personalized needs of students, many of whom are arriving on campus with pre-existing conditions, severe disorders, and comprehensive treatment plans. 
Psychiatrists are highly trained in complex mental health disorders and can work closely with on-campus providers and clinicians to co-manage mental health disorders and provide a holistic, cognitive behavioral approach to care, Dr. Feldpausch says. Psychiatrists should not replace current clinicians, but act as consultants, so on-campus providers and clinicians are supported rather than overburdened with issues they can't solve on their own. 
Adding telepsychiatry to on-campus offerings and supporting continuity of care
With college students living off campus, in remote locations, without transportation access, and with significant personal obligations, college leaders need to consider alternative options to care. Not every student has the time, ability, or desire to visit their on-campus counseling center, especially when wait-lines are preventing them from accessing services quickly. This is where teletherapy and telepsychiatry come in – and offer a more sustainable, long-term solution.
In addition to providing virtual therapy sessions, colleges can work with psychiatrists to offer medication management support to students battling severe mental health disorders. Adding on teletherapy and telepsychiatry to current offerings allows students to access mental health care outside of counseling center hours, connect with more diverse providers who have unique specialties, and engage in sessions from anywhere, including their home or workplace. 
"We've had students join sessions at private locations from their workplace," says Dr. Feldpausch – and she says more and more students are now requesting teletherapy and telepsychiatry services as they live in remote areas, can't access transportation, or wish to continue their care virtually over the summer months or on breaks. 
Reaching more students with Mantra Health
Every student is unique. When colleges and universities limit their mental health options to in-person care, they miss an opportunity to address personal preferences and more severe mental health conditions. Not every student wants to visit a mental health professional and many feel their needs aren't being met by the limited on-campus staff members whose specialities or backgrounds don't align with their concerns. 
While working with Colgate University in Madison County, New York, we have found that telepsychiatry services could drive a major shift in the college's quality of mental health care. When providers work together on a consistent basis, they can leverage each other's skills, expertise, and training to provide the best, most holistic care to their student patients. This includes reviewing student medical records, conducting symptom severity screenings to monitor improvement in treatment, and recognizing physical symptoms to identify and treat existing and developing conditions. 
Our psychiatric services at Moravian College in Bethlehem, Pennsylvania, also resulted in significant mental health improvements. Among the students requesting services in 2021, 95% attended their scheduled intake appointment and 89% attended a follow-up appointment. In addition, 66% saw improvements in anxiety symptoms and 45% saw improvements in depression symptoms.
At Mantra Health, we have developed our own provider network to accommodate the comprehensive, personalized needs of students and we work closely with counseling centers to connect them to diverse providers who are trained in specialty areas. For many students, this is a non-negotiable. If a provider doesn't understand or can't speak to their racial, gender, identity, or socioeconomic concern, then mental health conditions can worsen – and students may be discouraged from seeking services in the future.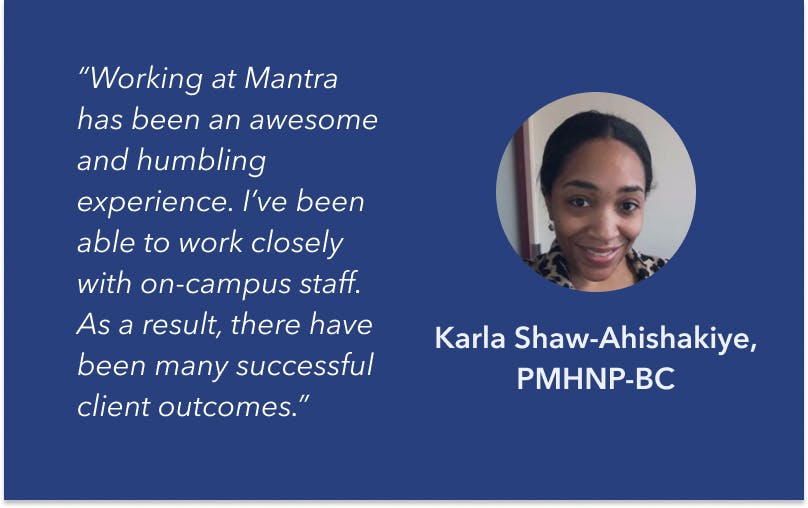 We have the fastest-growing, clinically-backed digital mental health solution for college students and we're on a mission to increase access and improve the quality of care for college students, while relieving the strains put on health centers. 
If you want to learn more about our offerings and how we're changing youth mental health care for the better, please get in touch with us today!